"Celebrate" by Kool & The Gang
Hello Again!!! Glad you stopped by!!!



This is our Second Events Page!!!
Here we will feature Ongoing Events and Past Events!!!
OUR 1999 CHRISTMAS PAGES!!!
They're still up!!! We hope you will come visit us at our Christmas pages!!!
We made a little Christmas gift for all our friends,
(That's YOU!!!)
and if you'd like you can play in the snow with us!!!
Just click on our banner below to visit our Christmas pages!!!


LuvKittys' CHRISTMAS PAGES!!!
The LuvKittys outdid themselves in 1999!!
They have some wonderful Christmas pages,
the highlight of which being all the stockings they have hung
at their mantel for all of their furiends!!!
Here are the stockings they made for us!!!
Aren't they cute??? We love them, and this concept!!!
Be sure to check out their pages
by clicking on our stockings!!!



MADAME ALTO'S CATHOUSE


Purroudly Presents
The Feline Choral Society's Rendition of
THE TWELVE DAYS OF CHRISTMAS!!!
Mme. Alto presented one of the best renditions of
'The Twelve Days of Christmas' ever purrformed!!!
This clever and unique performance is a must see event!!!
Just click on the carolers below
to have a really enjoyable Christmas experience!!!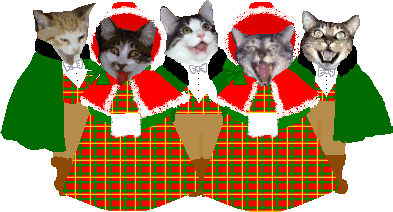 CANADIAN CATS SOCIETY

CHRISTMAS CELEBRATION BALL!!!
The Canadian Cats Society, a group formed by CLAW members
is purroud to present this Gala event in Canada!!
They have created a wonderful grand ballroom,
if you'd like to 'dress to the nines' and dance the evening away
OR you can suit up in your 'cold weather gear'
and come and play in the Canadian snow, like we did!!!
Here's a picture of us ready to play in the snow!!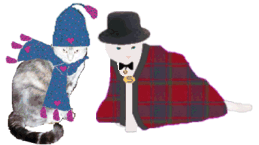 Either way you're sure to have fun!!!
Just click on the jingle bells below,
to be whisked away to Canada!!!


It's still not too late yet!!!
Check out our COOL HALLOWEEN PAGES
Trick or Treating with Studley has closed til next Halloween, tho!!!
Just Click on Studley and he'll lead you there!!

MADAME ALTO'S FIESTA!!!
Be sure to stop by Madame Alto's Cat House
To check out their fun Fiesta!!!
They are STILL celebrating their 2nd Anniversary
With a BIG bash!!!

There will be plenty of partying going on
With catnip and mousegaritas, and a great band,
For your dancing pleasure!!!!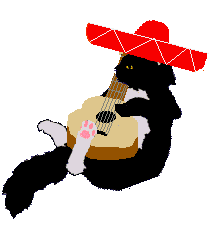 So, grab your sombrero and rumba on over there
By clicking on these music notes!!!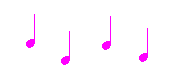 That's all fur now,
but be sure to check our Events Page regularly,
as we update it monthly with NEW, FUN
things to do and parties to attend!!!